TCCA granular is a kind of granular trichloroisocyanuric acid disinfectant with 90% available chlorine, which is always divided into different specifications according to the size of the particles. The particles of TCCA granular for Sale in Fengbai usually include 5-8mesh, 8-30mesh, 20-60mesh size. Inquiry us to tell us the specifications and package you need, quotation will be sent to you quickly.
Item
TCCA 90
Effective chlorine content,% ≥
90
PH,1% aqueous solution
2.7-3.3
Moisture,%≤
0.5
Appearance
Powder
Granular size: 5-8mesh, 8-15mesh,8-30mesh, 20-60mesh etc.
Tablet size: 200g/tablet, 50g/tablet, 20g tablet, 2g/tablet, 1g/tablet etc.
Items
TCCA Multi-functional granular
Effective chlorine content,%
85-86(can be customized)
PH,1% aqueous solution
2.7-3.3
CuSO4,%≥
2.5(can be customized)
AL2(SO4)3,%≥
2.5(can be customized)
Appearance
Granular size: 5-8mesh, 8-15mesh, 8-30mesh, 20-60mesh etc.
Tablet size: 200g/tablet,
                   20g tablet etc.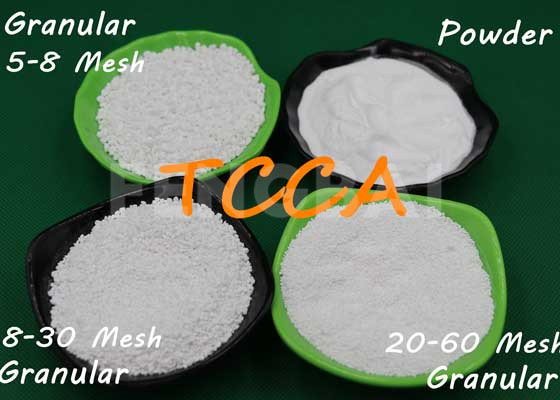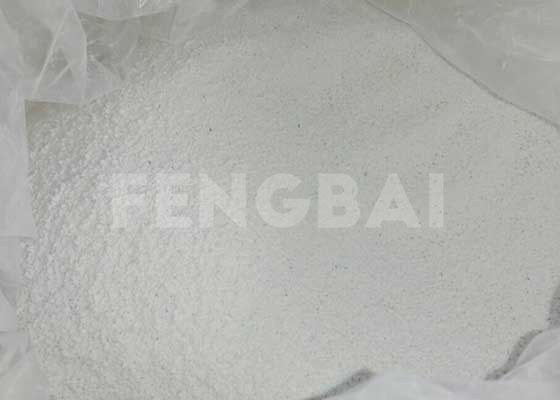 Trichloroisocyanuric acid is a very strong oxidant and chlorinating agent, which has a high-efficiency, board-spectrum and relatively safe disinfection effect. Among chlorinated isocyanuric acid products, it has the strongest bactericidal ability and has a killing effect on bacteria, viruses, fungi, molds, Vibrio cholerae, spores, etc., as well as a certain killing effect on coccidian oocysts. TCCA granular can be used for the disinfection of environment, drinking water, fruits and vegetables, livestock and poultry feeding troughs, fish ponds, silkworm houses, etc.
TCCA chlorine has the effects of killing algae, deodorizing, purifying water and bleaching. It has stronger sterilization and bleaching functions than sodium dichloroisocyanurate. It can be widely used as washing and bleaching agent for cotton and hemp synthetic fabric, wool shrinking-proofing agent, also used for rubber chlorination, oil drilling mud sewage sterilization treatment, battery materials, swimming pool disinfection, drinking water disinfection, industrial sewage and domestic sewage treatment, sterilization in food processing industry, food hygiene industry, aquaculture industry, daily chemical industry, hospitals, nursery, epidemic prevention, garbage disposal, hotels, restaurants, etc...
The working principle of TCCA Disinfectant is to slowly hydrolyze in water to generate cyanuric acid and hypochlorous acid. Hypochlorous acid acts as an oxidizing bactericial and algaecide in water, as cyanuric acid can be used as a stabilizer of hypochlorous acid. Hypochlorous acid is a very strong oxidant, which can easily pass through the cell wall of microorganisms and combine with the protoplasm in the cell wall, destroying cell proteins and forming stable nitrogen-chlorine bonds. Meanwhile, it can also oxidize the sulfhydryl groups such as triose phosphate dehydrogenase and reduce the activity of reductase necessary for respiration. When the concentration reaches a certain level, it can destroy the whole cell and kill microorganisms. Hypochlorous acid will also ionize into hypochlorite in water. The sterilization effect of hypochlorite is far less than that of hypochlorous acid. It is estimated that hypochlorite is 20 times less effective than hypochlorous acid.Therefore, the sterilization effect is ideal when the pH of the circulating water is between 6.5 and 7.5. In order to ensure the sterilization effect, the circulating water must maintain a certain amount of residual chlorine and a certain contact time. Generally, the residual chlorine content is maintained at 0.2-1.0m/L, and the contact time is maintained at 4h to meet the sterilization requirements.
Why Choose Fengbai - TCCA Granular Manufacturer
As a professional and reliable manufacturer and supplier of water treatment chemicals with more than 15 years experience, Fengbai always insist on providing customers high-quality and high-performance products. It is precisely of this that we have received the trust of our customers and have established long-term cooperative relationship with many clients from all over the world.
We has our own production base and fully automated production lines. Now our company can supply Trichloroisocyanuric Acid (TCCA), including TCCA tablets, TCCA granular and TCCA powder, 1,5000 tons every year. We can ensure the timely delivery of our products.
With no third party, we can guarantee the competitive price.
TCCA granular is a convenient use and highly effective disinfectant with a wide range of uses. If you have any need, Fengbai will be your ideal choice. Feel free to contact us for more details and quotation now.