TCCA Tablets is one of the trichloroisocyanuric acid products, which can also be granular or powdery in appearance. The effective chlorine content of TCCA tablets for sale in our company is more than 90%, so we usually call it TCCA 90 chlorine tablets. With the excellent characteristics of strong bactericidal,bleaching effects and low toxicity, trichloroisocyanuric acid Tablets is widely used in swimming pool water treatment, drinking water treatment and industrial circulating water treatment. Check the tablet size of TCCA for sale in our company, choose the suitable specifications depends on your requirements and inquiry us for quotation now.
Item
TCCA 90
Effective chlorine content,% ≥
90
PH,1% aqueous solution
2.7-3.3
Moisture,%≤
0.5
Appearance
Powder
Granular size: 5-8mesh, 8-15mesh,8-30mesh, 20-60mesh etc.
Tablet size: 200g/tablet, 50g/tablet, 20g tablet, 2g/tablet, 1g/tablet etc.
Items
TCCA Multi-functional tablet
Effective chlorine content,%
85-86(can be customized)
PH,1% aqueous solution
2.7-3.3
CuSO4,%≥
2.5(can be customized)
AL2(SO4)3,%≥
2.5(can be customized)
Appearance
Granular size: 5-8mesh, 8-15mesh, 8-30mesh, 20-60mesh etc.
Tablet size: 200g/tablet,
                   20g tablet etc.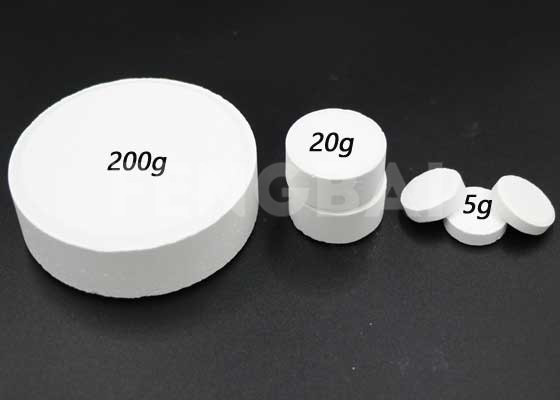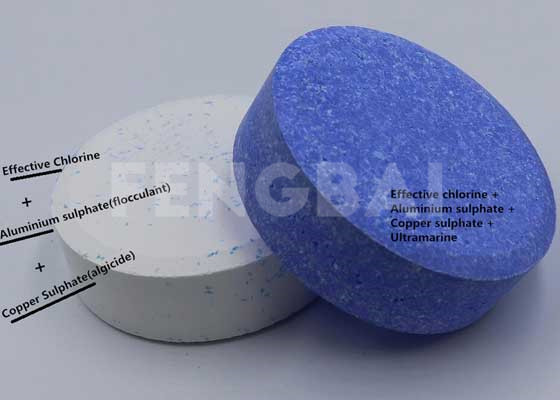 Multi-functional TCCA Tablets

Slow Dissolving TCCA Chlorine Tablets
Multi-functional TCCA tablets is mainly to ensure the effective chlorine content of trichloroisocyanuric acid tablets while adding a certain amount of copper sulfate and aluminum sulfate. The amounts of all the three ingredients can be customized. This type of TCCA mainly used in the swimming pool water treatment and algae removing of industrial circulating water. Some multi-functional chlorine tablets look blue because of the addition of ultramarine.
Slow dissolving TCCA chlorine tablets can kill algae and inhibit algae while continuing to sterilize. It has special effects on the disinfection of swimming pool water and inhibits the growth of algae, so it is also called swimming pool disinfection tablets and is a commonly used swimming pool water treatment chemical.
This dissolution speed of this kind of disinfection tablet is very slow, and it needs water flow to make it dissolve. Therefore, it is mainly used for disinfection and anti-algae of water bodies such as swimming pools, sauna spa pools, water parks and various fountains and pools. According to whether there is circulation and the length of the circulation time, these TCCA disinfection tablets can be maintained for 3-7 days before they are absolutely dissolved, that is to say, they have a disinfection effect in 3-7days, which can better maintain the residual chlorine in the water and keep the water quality of the pools better and clear, as well as prevent the water from greening caused by moss growth.
Package of TCCA Tablets for Sale in Fengbai
About Trichloroisocyanuric Acid Tablets Manufacturer - Fengbai Industrial Co.,Ltd
Delivery guarantee. With our own production workshop and more than fifteen years of production experience, we can now supply 15,000 tons of TCCA chemical with various specification(including tablets, granular, powder) annually. In addition, we continue to introduce advanced production technology and equipment to improve production efficiency and ensure that every batch of products you order can be delivered quickly.
Quality assurance. Fengbai company has already passed the quality authentication of ISO9001, HACCP, KOSHER and HALAL etc., and was awarded AAA Credit Enterprise in banking system. At Henan Fengbai Industrial Co.,Ltd, all the chemicals we produced are treated with maximum care and process management to ensure the highest quality. A special quality control system ensures that every step in the production process can be done the best. Customers can purchase with confidence.
Wide export regions. Our water treatment chemicalshave been exported to more than 60 countries, such as Vietnam, Egypt, Singapore, Saudi Arabia, UAE, Colombia, Thailand, Malaysia, Indonesia, Iran, Ecuador, Chile, Brazil, etc. The brand of "FENGBAI" was well-received by the customers from Southeast Asia, Africa, Europe, South America and the Middle East. 
Competitive price. Purchase TCCA tablets directly from manufacturer, you will get the most competitive price. Specifications and packaging can be customized in accordance with your requirements, welcome to inquiry us for quotations.